SARS-CoV-2 Mutation Research
COVID-19 virus are constantly evolving to new variants which have different shedding capacity and susceptibility to vaccine, which is mainly caused by the change of spike protein. To prevent the super-spreading of the variants, the S protein should be sequenced more quickly and efficiently.
AccuPower® SARS-CoV-2 S gene Amplification Kit provides the more fast and convenient solution for sequencing of S gene. The kit contains every RT-PCR components including primers and enzymes. Just add your RNA sample into 4 tubes of kit, you can amplify whole S gene for direct sanger sequencing.
You can also analyze the S-Protein gene sequence of fewer positive samples such as 100 copies or less using a Nested PCR kit.
Direct Sanger Sequencing is possible after PCR purification without cloning.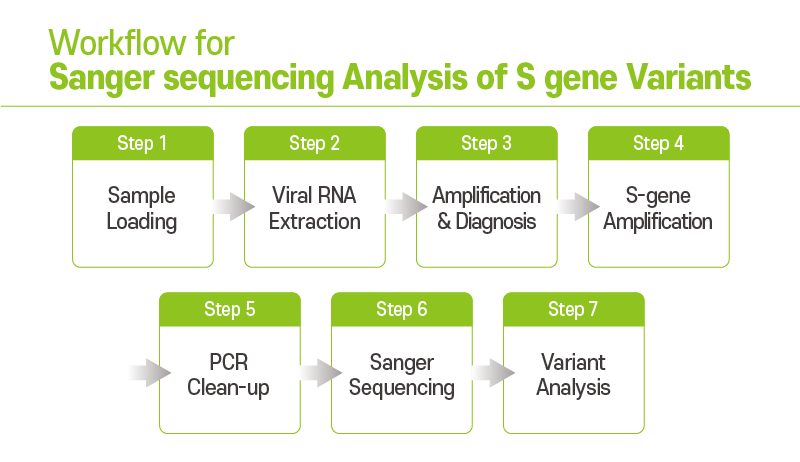 Collection samples from Patients
Specimen
- Nasopharyngeal & Oropharyngeal swab, Sputum
Loading into RNA extraction Catridge
| | |
| --- | --- |
| Diagnostics kit | Real-Time PCR |
| AccuPower® SARS-CoV-2 Multiplex Real-Time RT-PCR Kit | Exicycler™ 96/384 Real-Time Quantitative Thermal Block |
AccuPower® SARS-CoV-2 S gene Amplification Kit (K-2520)
Kit Components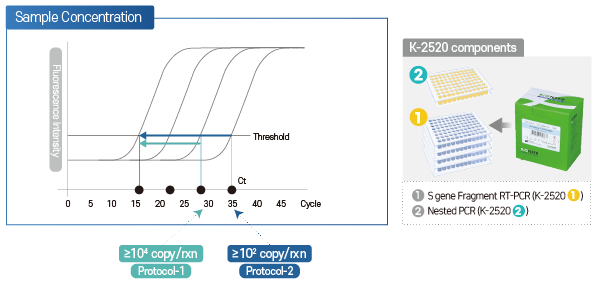 workflow
Fast and cost-effective Bioneer's Sanger sequencing service

* The primer is free if you use the Sanger sequencing service in Bioneer.