ExiProgen™ EC Protein Synthesis Kit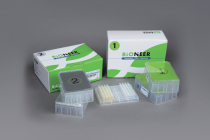 ExiProgen™ EC Protein Synthesis Kit allows protein synthesis through the use of ExiProgen™, installed with the world's first fully automated protein synthesis system. After mounting the kit containing template DNA on ExiProgen™ and activiating Protocol No. 902, within 6 hours, proteins are automatically expressed. The target proteins are then purified using His-tag. Maximum 16 different types of highly-pure proteins can be isolated simultaneously in a single reaction up to 100 μg. As the entire process is automated, unlike using the traditional manual procedures, having risks of getting different results depending on the experimental environment, this kit ensures reproducible results through each run.
※This product is shipped in dry ice.
Application Note
• High molecular weight protein
• in vivo protein expression pET vectors
Quick and easy protein synthesis, ExiProgen™ EC Protein Synthesis Kit
Features and Benefits
Fully automated system

Automatic synthesis & purification of the target protein only within 6 hours simply by inserting the template DNA into the cartridge and loading it in the ExiProgen ™

Advanced protein synthesis system

Synthesis of complicated proteins difficult to be done in traditional in vivo expression systems such as toxic proteins, membrane proteins, etc.

Diversity

Protein expression of wide size ranges from 10 kDa to 150 kDA from a variety of DNA including plasmid and DNA fragments from PCR products

Reproducibility

Reproducible results through optimized protocols of automated devices