AccuPower® Technology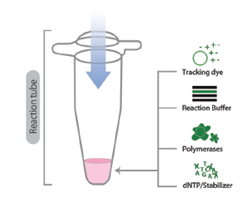 Figure 1.
AccuPower
®
Premix Tube
Convenience in Performance

AccuPower® Real-Time PCR Diagnostic Kits are vacuum-dried qPCR and RT-qPCR premixes. All the components necessary for real-time PCR are contained within one tube, which increases the stability of reagents, and allows simplified reaction setup. Because of this simplified setup, AccuPower® technology is ideal for automated molecular diagnostics.
Features
Signature Convenience
- All components for the assay are contained within a tube.

Outstanding Reproducibility
- Large-scale batch production through automated processes guarantees repeatability of results.
- Premixed PCR reagents minimize human error and enhance precision.

Industry-Leading Stability
- Vacuum-dried premix suspends reagent deterioration, which allowing a shelf life of 1 year.


Performance
Stability Test




Figure 2. Stability test was performed to evaluate the stability of the AccuPower® CMV Quantitative PCR Kit. From the results, the validity period of the AccuPower® CMV Quantitative PCR Kit was determined as 12 months at -20°C (-22~-18°C).
Intellectual Property
| | | | |
| --- | --- | --- | --- |
| Title | Patent No. | Application No. | Countries |
| Method for DNA polymerase reaction mixture production | 10-162270 | | KR |
| Lyophilizes reagent for polymerase chain reaction | 5861251 | | US |
| Lyophilizes reagent for polymerase chain reaction | 6153412 | | US |