Standard Protein Synthesis Service
Bioneer's Standard Protein Synthesis Service provides recombinant proteins within at least 1 week. This service uses automatic protein synthesis system (ExiProgen™ Protein Synthesis System) to synthesize various proteins such as enzymes, growth factors, hormones, antigen proteins, and antibodies.
*A Special Thank You Offer: 20% off for your first order! (~2021/12/31 GMT+9 6:00PM)
Terms and Conditions
-This offer is valid only for the first order done in 2021
-All the additional service fees, such as charges for set-up and other amplification services, are not included in this promotion.
Principle of Protein Synthesis Service using ExiProgen™ is shown below.
Add template DNA for target protein expression into protein synthesis kit and install in
ExiProgen
™ to get the purified protein.

The process of protein synthesis is in two steps.
Proteins are expressed by using E. coli cell-free protein expression and purified by Ni-affinity.
They are provided dissolved form in storage buffer.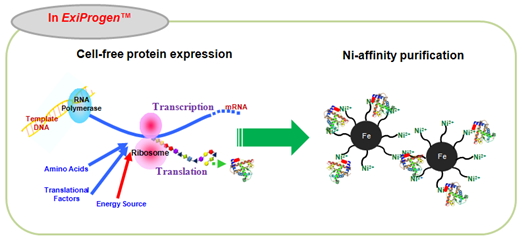 Features and Benefits
Reduced experimental time


Delivery within 1 week through protein synthesis by E. coli cell-free protein expression and Ni-affinity purification

Advanced expression technologies

Synthesis of various proteins (enzymes, growth factors, hormones, antigens, antibodies, toxin proteins, etc.) difficult to be done in the existing in vivo technology