AccuPower® RT-PCR PreMix & Master Mix
AccuPower® RT-PCR PreMix utilizes one-step RT-PCR capable of undergoing economical sequential reactions of cDNA synthesis and two-step PCR protocols in a single tube using low-copy RNA (viral RNA) or mRNA. Furthermore, as the each tube contains all the necessary components sufficient for a single run, cross contaminations by the repetitive use of master mix can be avoided.
Furthermore, stabilizers are added to keep the activity stable for one month when stored at room temperature (25°C) and for two years when stored in a freezer.
※PreMix product is shipped at room temperature. The reaction mixture contains stabilizers that keep full activity of enzymes even at the ambient temperature.
※MasterMix product is shipped in dry ice.
Features and Benefits
Easy-of-use

Simplified protocols that allows continous performances of cDNA synthesis and PCR reaction in one tube, only requiring addition of the template RNA and its specific primer

Stability

Addition of stabilizer and RNase inhibitor for high resistance to degradation

Reproducibility

Mass production under ISO 9001 quality system allowing minimized deviation between lots and reproducible results even for replicates tested repeatedly under the same conditions and variables
Application
• First-strand synthesis of cDNA from RNA molecules (RT)
• RT-PCR
• cDNA library construction
• Gene-expression analysis
Experimental data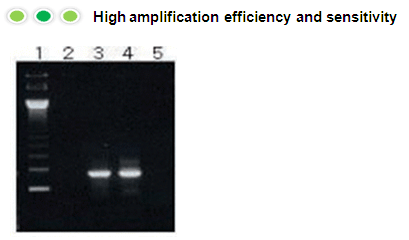 Figure. Specific amplification of 5'- UTR region of HCV with AccuPower® RT/PCR PreMix.
Specific amplification of 5' - UTR region of HCV with AccuPower® RT-PCR PreMix. Human DNA was amplified to generate 0.1-1.5 kb PCR fragments using 1 U of polymerase. The comparison was performed under the same experimental conditions.
Lane 1; DNA Ladder (BM corp.)
Lane 2; negative control
Lane 3, 4; HCV positive serum
Lane 5; HCV negative serum