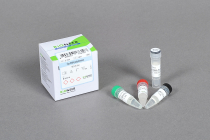 Top DNA polymerase contains a thermostable DNA polymerase having improved polymerase activity by using the recombinant DNA technology on a thermophilic polymerase gene.
※This product is shipped in dry ice.
Features and Benefits
Optimized buffer delivery

Guaranteed stable response with Top optimized buffer for DNA polymerase

Efficiency & Sensitivity

High efficiency and sensitivity for DNA amplification using PCR

Reproducibility

Reproducible results with uniform quality products for each batch by manufacturing under the ISO 9001 quality system
Application
Real-time quantification of DNA and cDNA targets using dsDNA binding dye

Gene expression profiling

Microbial & viral pathogen detection
Experimental data
Figure. Sensitivity test of Top DNA polymerase using Lambda genomic DNA.
Each fragment was amplified from a template dilution series (10 ng to 10 fg DNA per reaction) using 1 U of each Top DNA polymerase.