ExiPrep™ 96 Lite is a high-capacity nucleic acid extraction instrument that automatically extracts nucleic acids from up to 96 samples. Magnetic rod method for extracting nucleic acids within 30 minutes. Built-in optimized protocol for each kit can easily extract the nucleic acid, various samples such as blood and serum can be applied. In addition, the number of magnetic rod can be set to 32 units (32, 64, and 96) depending on the number of samples.
Features
High through-put and fast

Handle max 96 samples in a run
Outstanding walkway time: within 30min

Flexible sample volume

24 test x 4ml
96 test x 0.4ml

Nucleic acid extraction by magnetic rod method
built-in optimized nucleic acid extraction protocol
Extract nucleic acid from various samples such as blood, serum, sputum and tissue
Easy-to-use with built-in 7 inch touch screen
Contamination prevention system with UV lamp, contamination shield
Increased space efficiency by compact size
Workflow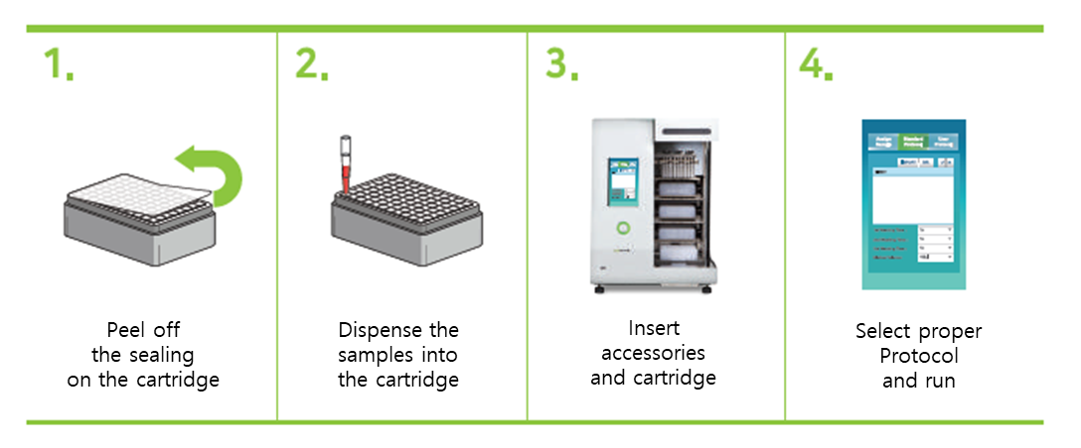 Specifications
Physical specifications
Dimension (㎜)

400(W) * 575(D) * 546(H)

15.75in(W) x 22.64in(D) x 21.5in(H)

Weight (㎏)
46 ㎏ (101.42lbs)
Voltage / Frequency
100-240 V~, 50/60 Hz
Power
500VA Max (Fuse: 250V, F6.3AL, 2ea)
Operating specifications
Heating block
30-90°C (86-194°F)
Temperature controlled block
4-90°C (32.9-194°F)
Operating temperature
15-30°C (59-95°F)
Operating humidity
20-80%, no condensation
Operating system
Built-in
Communication
TCP/IP
User interface Display
7 inch Touch
Data storage
USB 2.0 (x2)
* The specifications of this product are subject to change without notification.
| | |
| --- | --- |
| Cat No. | Product Description |
| A-5250 | Exiprep™96Lite |
Quality Assurance
Bioneer is the holder of Quality Management System Certificates for the following standards.
Contact Us
E-mail : sales@bioneer.com