ExiPrep™ 96 Genomic DNA Kit
ExiPrep™ 96 Genomic DNA Kit is a reagent that can extract genomic DNA from human specimens using ExiPrep™ 96 Lite. ExiPrep™ 96 Genomic DNA Kit contains all buffers and consumables necessary for efficient and effective genomic DNA extraction. ExiPrepTM 96 Lite provides total solution with pretreatment reagents.
Features
1. Simultaneous extraction of nucleic acids from a maximum of 96 clinical samples within 50 minutes.
2. Pre-filled buffer cartridge system
3. ExiPrep™ 96 system uses silica magnetic beads developed and produced with Bioneer's technology.
4. Resuspension Buffer is included within the kit for the pretreatment process of samples.
Specification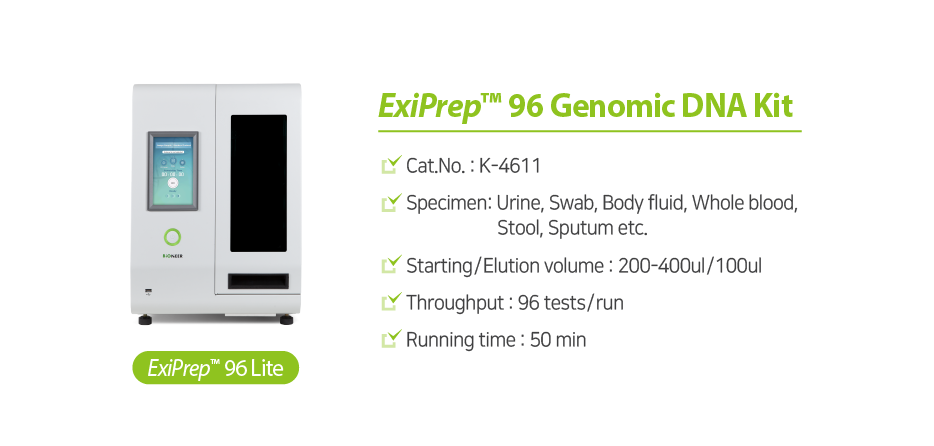 Applications
Diagnosis of infectious disease, pneumonia, tuberculosis, Mycobacterium, food poisoning bacteria.
Workflow

Related products
| | |
| --- | --- |
| Cat. No. | Product Description |
| K-4611 | ExiPrep™ 96 Genomic DNA Kit |
| A-5250 | ExiPrep™ 96 Lite |
Quality assurance
Bioneer is the holder of Quality Management System Certificates for the following standards.
Conatact Us
Please contact order and marketing requests via e-mail.
E-mail : sales@bioneer.com
v 1.0 /2021-08-09