AccuPower® Pfu PCR PreMix & Master Mix
AccuPower® Pfu PCR PreMix uses Pfu DNA polymerase to attain highly accurate PCR products through its proof-reading function. As all components necessary for PCR such as Pfu DNA polymerases, dNTPs, reaction buffers, etc., are thoroughly mixed and vacuum-dried, each packaged with amounts sufficient for a single PCR run, by simply adding the template DNA and primers, a high-performance PCR product can be obtained.
※Master Mix product is shipped in dry ice.
Features and Benefits
High fidelity

Low mutation rate during DNA amplification through its a high fidelity (error rate= 1.9X10-6)

Sensitivity

Excellent sensitivity and amplification efficiency by detecting even a trace amount of samples

Long range PCR


Effective amplification of large-size targets allowing various applications such as promoter assay and cloning experiments

Stability

Enhanced stability allowing long-term storage with a stabilizer included and dried in the PCR reaction mixture

User-friendly

Convienance with easy start just by adding template DNA and primers

Reproducibility

Minimized deviation between lots and reproducible results even for replicates tested repeatedly under same conditions and variable by mass production under ISO 9001 quality system
Application
• Gene synthesis
• Gene cloning
• Conventional PCR
• Primer extension
• Site-directed mutagenesis
• High fidelity PCR
Experimental data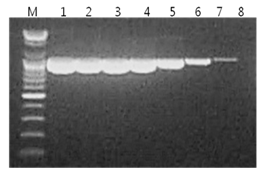 Figure. Template Range & Sensitivity test
Test of working range & sensitivity of AccuPower® Pfu PCR PreMix for Lambda DNA template.
M; 100 bp DNA Ladder (Cat. No. D-1030, Bioneer)
Line 1; 10ng
Line 2; 1ng
Line 3; 100pg
Line 4; 10pg
Line 5; 1pg
Line 6; 100 fg
Line 7; 10 fg
Line 8; template negative