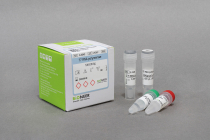 T7 RNA polymerase a product purified after being synthesized by expressing the gene for bacteriophage T7 RNA polymerase in Escherichia coli.
This allows to specifically bind onto the T7 phage promoter site and catalyze the RNA synthesis from the cloned DNA sequence located at the bottom of the T7 promoter site.
※This product is shipped in dry ice.
※Bulk order upon request : protein@bioneer.co.kr

Features and Benefits
High Specificity
Has high specificity to T7 phage promoter sequence allowing synthesis of desired RNA transcriptome.

Versatility
Conveniently synthesize the mRNA and sgRNA for such as for vaccine production and CRISPR-Cas9 researches.
Reproducibility
Manufactured under ISO9001 Quality management systems to produce each batch with unformed quality, allowing reproducible results.
Application
Synthesis of highly radiolabeled RNA probes
Synthesis of precursors of siRNA
Synthesis of precursors for RNA splicing reactions
Synthesis of mRNA for in vitro translation
Synthesis of sgRNA for gene targeting
RNA structure, processing and catalysis studies
Expression control via antisense RNA
Vaccines, CRISPR-Cas9