AccuPower® SARS-CoV-2 Variants ID Kit(Mastermix)
AccuPower® SARS-CoV-2 Variant ID Kit(Mastermix type) is an in vitro diagnostic kit that helps diagnose SARS-CoV-2 variants. The spike gene (S gene) is the key region to monitor the mutants with the recent arising from emergence variants from SARS-CoV-2. The kit is able to detect 5 genes about S gene mutation hot-spots in 2 tubes. Sputum, nasopharyngeal swab, and oropharyngeal swab from suspected infection patient's sample can be used.
Variatns ID Kit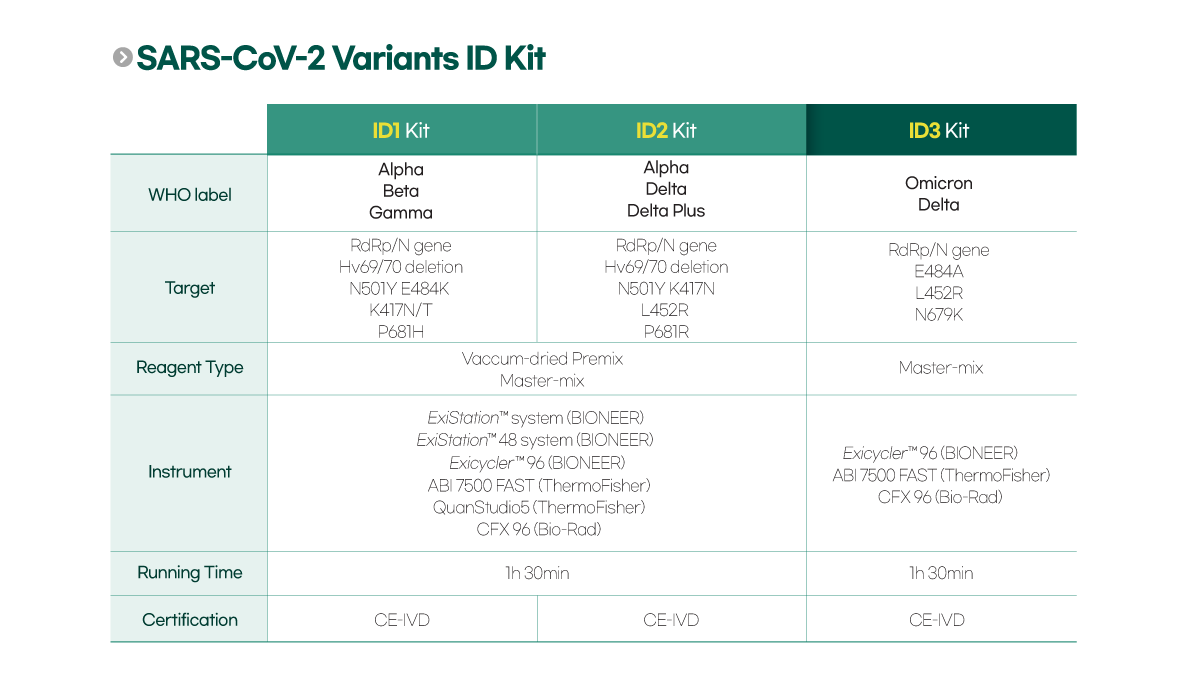 "Detectable Variants"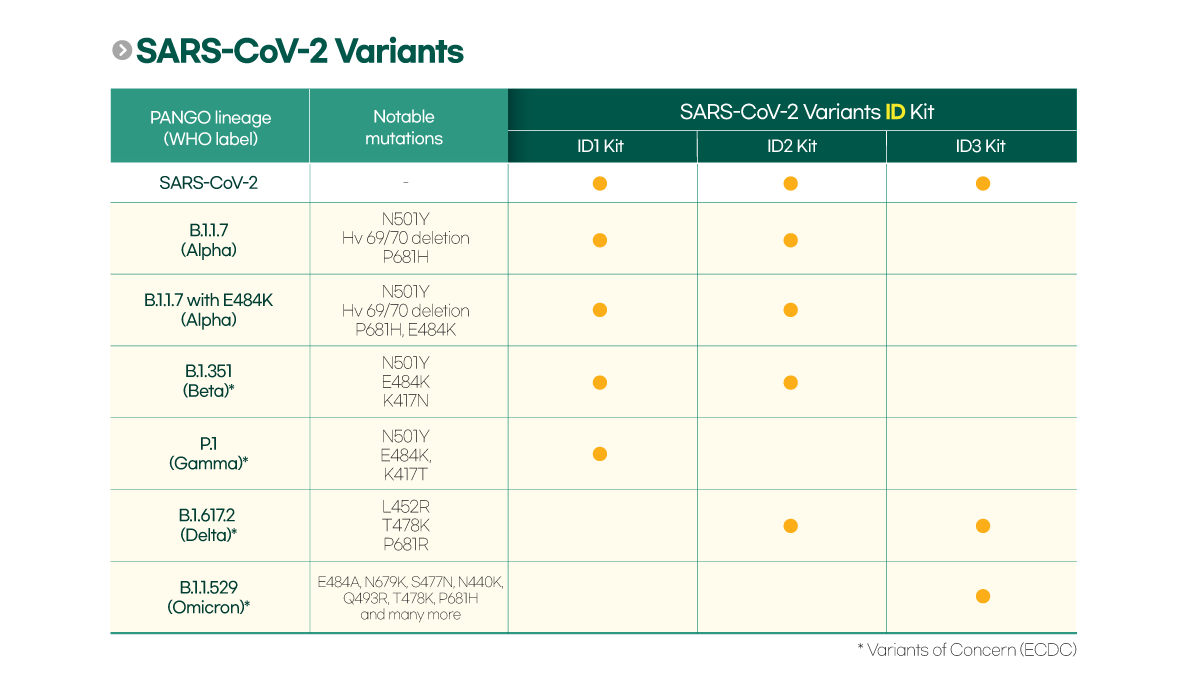 Features
Detection of S gene mutation hot-spots

:

Only essential targets are included in the kit.
Enhanced Sensitivity & Specificity: Bioneer's proprietary Dual-HotStart technology accomplishes high sensitivity and specificity.
Compatible with the various system:

Exicycler™ 96(BIONEER), ABI7500Fast(Thermofisher), Quantstudio 5(Thermofisher), CFX 96(Bio-Rad)
2 different types(Premix & Mastermix) are available for the user's convenience. If you want premix type please click here.
Workflow
Specifications
Kit type: Mastermix type
Specimen type: Sputum, Nasopharyngeal swab, Oropharyngeal swab
Compatible system: Exicycler™96(BIONEER), ABI 7500 FAST(ThermoFisher), QuanStudio5(ThermoFisher), CFX 96(Bio-Rad)
Master mix type
Vacuum dried premix type
Target
Variants 1: RdRp/N gene, Hv69/70 deletion, N501Y
Variants 2: E484K, K417N/T, P681H
Cat. No.
SMVR-2112
SMVR-2113
SMVR-1111
Real-Time PCR

Exicycler™96
(BIONEER)
ABI 7500 FAST
(ThermoFisher)
QuanStudio5
(ThermoFisher)

CFX 96
(Bio-Rad)

ExiStation™
ExiStation™48
Tube/test
2 tubes/50 tests
2 tubes/48 tests
Running time
1h 30min
Ordering Information
Related Products
Quality Assurance
Bioneer is the holder of Quality Management System Certificates for the following standards.
Contact Us
Please contact order and marketing requests via e-mail.
E-mail : sales@bioneer.com