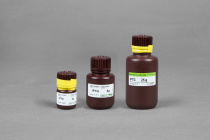 Our company produces buffers and other chemicals essential for biotechnology studies. All our products have been manufactured under strict quality control systems before the supply.
▷IPTG is used as an inducer for β-galactosidase activity for stimulating gene activation cloned in the vector.
▷ Formula : C9H18O5S
▷ M.W.: 238.3 g/mol
▷ Form: Dry powder
▷ Purity: 99.0%
▷ Store at 4℃

※This product is shipped with ice pack.
Overview
Bioneer directly produces and supplies buffers and chemicals, which are essential in biotechnology research.
All the products supplied are produced under strict quality control system and are supplied to customers through high quality inspection.