AccuPower® Clostridium sordellii Real-Time PCR Kit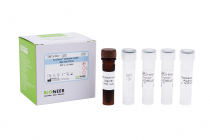 AccuPower® Clostridium sordellii Real-Time PCR Kit is a product that can specifically detect Clostridium sordellii (C. sordellii) by real-time PCR. Clostridium sordellii is a gram-negative bacterium known to cause pneumonia, and endocarditis.

※ Note: For research use only. Not for use in diagnostic or therapeutic procedures.
※ This product is shipped in dry ice.
Overview
C. sordellii is an anaerobic bacterium with spores that causes pneumonia, endocarditis, arthritis, peritonitis, etc. It is frequently found in the soil and intestines of animals, and can usually also be found in the vagina of healthy women. If it enters the uterus through gynecological procedures or childbirth, it can cause C. sordellii toxic shock syndrome (CSTS). The incidence of CSTS is not known, but if it does develop, can lead to death. Symptoms of CSTS include an increase in white blood cell count, low blood pressure, and tachycardia.
Features and Benefits
Convenience
All necessary reactants for real-time PCR are included in a tube (i.e., Master Mix Type), allowing the users to perform reaction simply by adding template DNA, Oligo Mix, and DEPC-D.W.


Sensitivity
By using BIONEER's HotStart Taq DNA Polymerase that minimizes non-specific reactions and maximizes reaction efficiency, only the target gene can be effectively amplified even with a trace amount of template DNA.