AccuPower® DAS40278-9 PCR kit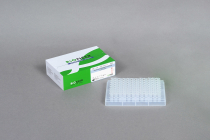 AccuPower® DAS40278-9 PCR Kit is a ready-to-use premix for PCR that can be used to detect ADD-1 gene that has been introduced into genetically modified (GM) maize to improve resistance to 2,4-D and AOPP herbicides.
※ This kit is for research use only and must not be used for diagnostic purposes.
※ This product is shipped in dry ice.
Overview
Genetically modified organisms (GMOs) are organisms whose genetic material has been artificially modified to obtain desired characteristics, such as increased yield and resistance to pests and pathogens. Only those that have the approval of a regulatory agency, such as the Ministry of Food and Drug Safety in South Korea, can be sold. Nowadays, many countries/regions require manufacturers to label products that include genetically modified products, leading to an increase in the demand for GMO detection technology.
Features and Benefits
Convenience & Reproducibility
All reactants necessary for PCR, including primers, are lyophilized in each PCR tube, providing reproducible results in a convenient way.


Sensitivity
By applying the patented PyroHotStart(Enzyme-mediated HotStart) technology that minimizes non-specific reactions and maximizes reaction efficiency, only the target gene can be effectively amplified even with a trace amount of template DNA.


Stability
Included stabilizer in the PCR reaction mixture provides increased stability compared to solution-type products.