AccuPower® Brucella PCR kit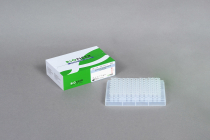 AccuPower® Brucella PCR Kit is a ready-to-use premix for PCR that can be used to detect Brucella, a bacterium that causes brucellosis in cattle, sheep and pigs.
※ This kit is for research use only and must not be used for diagnostic purposes.
Overview
Brucellosis is a bacterial infection that causes miscarriage and preterm birth in the second half of pregnancy. It can be found in livestock, such as cattle, deer, dogs, pigs, goats, sheep, and various other wild animals. Brucellosis is a zoonotic disease that can also infect humans by having contact with infected animals or animal products. Bacteria may enter the body through skin wounds or conjunctiva exposure. Symptoms include chills, headaches, and joint pain. The most crucial step when diagnosing brucellosis is checking its clinical manifestation and causative agents. Therefore, culture tests, serologic tests, and qualitative PCR tests are performed for diagnostic tests.
Features and Benefits
Convenience & Reproducibility
All reactants necessary for PCR including primers are lyophilized in each PCR tube, providing reproducible results in a convenient way.


Sensitivity
By applying the patented PyroHotStart(Enzyme-mediated HotStart) technology that minimizes non-specific reactions and maximizes reaction efficiency, only the target gene can be effectively amplified even with a trace amount of template DNA.


Stability


Included stabilizer in the PCR reaction mixture provides increased stability compared to solution-type products.