AccuPower® Actinobacillus Pleuropneumoniae (APP) PCR kit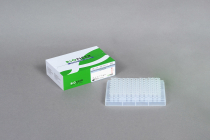 AccuPower® Actinobacillus pleuropneumoniae (APP) PCR Kit is a ready-to-use premix for PCR that can be used to detect the infection of Actinobacillus pleuropneumoniae (APP).
※ This kit is for research use only and must not be used for diagnostic purposes.
Overview
APP is an anaerobic respiratory pathogen responsible for porcine pleural pneumonia. It may happen unexpectedly in pigs of the age of 6-20 weeks, with a high mortality rate even in a short clinical course. Symptoms include lung adhesions, which might lead to chronic disease, and even cause death in 24-36 hours (in acute cases) or 2–5 days (in general case) after the infection. This kit uses a specific polymerase chain reaction (PCR) to distinguish APP from the other swine respiratory diseases.
Features and Benefits
Convenience & Reproducibility
All reactants necessary for PCR including primers are lyophilized in each PCR tube, providing reproducible results in a convenient way.


Sensitivity
By applying the patented PyroHotStart(Enzyme-mediated HotStart) technology that minimizes non-specific reactions and maximizes reaction efficiency, only the target gene can be effectively amplified even with a trace amount of template DNA.


Stability


Included stabilizer in the PCR reaction mixture provides increased stability compared to solution-type products.