AccuPower® Neospora caninum PCR kit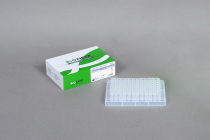 AccuPower® Neospora caninum PCR Kit is a ready-to-use premix for PCR that can be used to detect Neospora caninum (N. caninum), which causes neosporosis in cattle.
※ This kit is for research use only and must not be used for diagnostic purposes.
※ This product is shipped in dry ice.
Overview
N. caninum is a parasitic protozoan that causes neosporosis in dogs and cattle. It is one of the causes of miscarriage or stillbirth. Neosporosis is not transmitted by direct contact, but by feeding food or water contaminated with animal feces containing its eggs (Oocyst; Neospora caninum). Neosporosis can get infected via vertical transmission, where the infected mother cow transfers its diseases to its offspring. No vaccine or treatment is currently available. It must be controlled by taking preventative measures and conducting diagnostic tests.
Features and Benefits
Convenience & Reproducibility
All reactants necessary for PCR including primers are lyophilized in each PCR tube, providing reproducible results in a convenient way.


Sensitivity
By applying the patented PyroHotStart(Enzyme-mediated HotStart) technology that minimizes non-specific reactions and maximizes reaction efficiency, only the target gene can be effectively amplified even with a trace amount of template DNA.


Stability
Included stabilizer in the PCR reaction mixture provides increased stability compared to solution-type products.