S. cerevisiae VN-fusion Library Individual Strains (Agar type)
Yeast genome-wide protein-protein interaction libraries
This product divides the fluorescent protein into N-terminus and C-terminus fragments and attaches them to two proteins to be tested for interaction. And it was developed using a method of analyzing the fluorescence that appears when two fragments of a fluorescent protein are combined to form a complete fluorescent protein (Bimolecular fluorescence complementation; BiFC). Thus, it is possible to identify protein interactions in living cells and to analyze the location of interactions within cells. Currently, about 93% of the yeast proteome is obtained and 5,809 VN-tagged Open Reading Frames (ORFs) are constructed. Therefore, each strain of genotype can be selected for each experiment.
Features and Benefits
A powerful tool for studying protein-protein interactions in living cells and analyzing intra-cellular location

Simple observation by fluorescence microscope with strong fluorescence emitted during the formation of fluorescence complex

Analysis of protein interactions at the genomic level (Capable of covering 93% of the yeast proteome)

Easy study of unknown functions and interactions of new proteins

Proteinization analysis possible (ubiquitination, sumoylation, neddylation, etc.)
Overview
S. cerevisiae VN-fusion library is a system that allows the interaction of proteins in vivo to be more easily detected through fluorescent signals. It consists of 5,809 VN-tagged Open Reading Frames (ORFs) and 93% of the entire genome of S. cerevisiae. While the VN-fusion library is developed by Dr. Won-Ki Huh of Seoul National University (Korea), Bioneer owns its exclusive business license.
Principle
Bimolecular Fluorescence Complementation (BiFC) Assay
Most biological processes are carried out and regulated by dynamic networks of protein-protein interactions. Therefore, understanding and checking their interactions are necessary processes for understanding the cellular functions of proteins.
Bimolecular fluorescence complementation (BiFC) assays are easy to use when studying protein interactions as their fluorescence signals can be directly measured through a microscope. In the BiFC assay, the protein that exhibits yellow fluorescence ('Venus' in the figure below) is divided into two sections ('VN' and 'VC' in the figure below) to utilize their characteristic which only produces illuminance when those are close to each other by forming a whole fluorescent protein complex.
Application
Intracellular localization analyze of protein and protein interactions in cells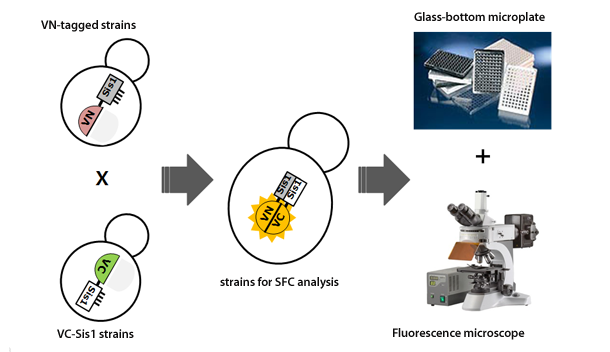 Figure 1. A schematic diagram of a strain that simultaneously expresses Sis1 (VN-tagged Sis1) labeled with VN at its N-terminus and Sis1 (VC-tagged Sis1) labeled with VC at its C-terminus
Figure 2. A diagram showing Sis1, a Type II HSP40 co-chaperone forming a homodimer by interacting with the HSP70 protein Ssa1(Luke et al., 1991).(Sha et al., 2000).
BiFC (bimolecular fluorescence complementation) signals are clearly identified in the nucleus and cytoplasm, meaning that VN-tagged Sis1 and VC-tagged Sis1 may bind in them. Sis1 protein is already known to be present in the two (Huh et al., 2003), while BiFC signals are not appear in strains expressing either VN-tagged Sis1 or VC-tagged Sis1.