Tissue Homogenization Set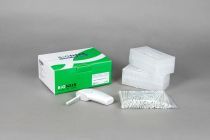 Tissue Homogenization set allows convenient extracting of genomic DNA or RNA from animal tissue through grinding. By placing your samples onto tissue filter tube and crushing them using a tissue stick combined with a tissue mixer, the pulverized tissue lysates can be easily acquired by centrifuging at 13,000 rpm for 1-5 minutes. While the tissue filter tubes with filters are for single-use only, the tube box containing them can be used for storing extracted DNA or RNA. Furthermore, the tissue sticks is made with polypropylene to reuse through autocleavage and sterilization after washing.
Note
When preparing animal tissues, make sure not to exceed 50 mg. Otherwise, the grinding efficiency may decrease.

Putting too much tissue lysis buffer (over 400 µl) may cause overflowing during the grinding process.

Grind the tissues thoroughly when using a tissue stick and tissue mixer as insufficient pulverization may cause the final yield of the genomic DNA and RNA to be lowered.

After centrifugation, use only lysate collected in a tube through a Tissue filter to extract genomic DNA and RNA.

Tissue mixer operates with two 1.5V AA batteries. Be cautious as the motor may stop in case of continuous, long-time usage.
Workflow