Agaro-Power™ is an agarose gel electrophoresis system allowing to quickly load 96 samples using a multipipette.
Overview
This product is equipped with a loading adapter on the device cover, which allows samples to be injected within a minute. Furthermore, the tank is made of polycarbonate composition and has excellent durability.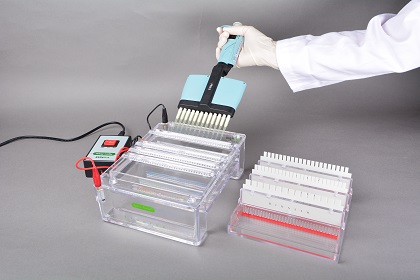 Figure. Simultaneous loading of 12 samples with loading adapter and 12-ch pipette
Features and Benefits
Tank/Lid
Easy observation of electrophoresis process through the transparent tank and lid
Loading adaptor
Simple and precise loading of samples in a 96-well quickly by the loading adaptar located on the lid
Power
Adjustment through ON / OFF system and supply low (75V) or high voltage (150V)

Gel caster/tray
Convenient procedure through gel caster and tray, with scales to easily make gels of same thickness

When using two combs, easily seperate the gel by using a dam
(Comb set must be purchased seperately, but if you purchase Agaro-Power™ System, we will provide 4 comb sets of 34/25/21/15/13 wells per line)

Comb set
4 type of comb sets, with two sides made into different types of wells having 34-well on one side while having 25/21/15/13 wells on the other, to be used depending on the experimental protocol to be used

Convenient for large capacity experiment by the use of 34-well comb allowing to load 96 samples at once

Cable jack
Convenient connection with the power supply compatible with Agaro-Power™ through a cable jack
▶

Specifications
Distance between electrodes (cm)
22.8
Buffer volume (ml)
700
Gel tray size (cm)
16.3 (L) x 14.9 (W)
Comb (No. of teeth)
25 well or 34 well/line x 1 ea
21 well or 34 well/line x 1 ea
15 well or 34 well/line x 1 ea
13 well or 34 well/line x 1 ea
Caster size (cm)
17 (L) x 15.6 (W)
Input voltage
110 VAC 50/60 Hz, 220 VAC 50/60 Hz
Output voltage
High : 150 V ± 10%, Low : 75 V ± 10%
(User selectable)
* Specifications of this product are subject to change without notice to improve product performance.
▶

Components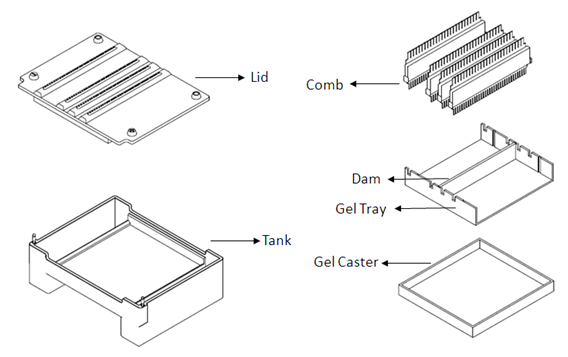 ▶

Technical Drawing
Comb
▶

Notice to Purchaser

ALL PRODUCTS : FOR RESEARCH USE ONLY. NOT FOR USE IN DIAGNOSTIC PROCEDURES.
Trademark: 'Agaro-Power™' is a trademark of Bioneer Corporation.
◈

Manual
◈

Brochure
◈

Quality Assurance

Bioneer is the holder of Quality Management System Certificates for the following standards.
| | | |
| --- | --- | --- |
| Cat. No. | Product Description | Price |
| A-7020 | Agaro-Power™ System | $605.00 |
* A-7020 is a product which includes A-7020-1, A-7020-2, A-7020-3 and A-7020-4 as standard. Each component can be purchased separately.


▶

Related Products (Components and Replacement Products)
| | |
| --- | --- |
| Cat. No. | Product Description |
| A-7020-1 | Agaro-Power™, Power Supply |
| A-7020-2 | Agaro-Power™, Agar Tank/Lid |
| A-7020-3 | Agaro-Power™, Comb Set |
| A-7020-3-1 | Agaro-Power™, Comb (25 well / 34 well) |
| A-7020-3-2 | Agaro-Power™, Comb (13 well / 34 well) |
| A-7020-3-3 | Agaro-Power™, Comb (15 well / 34 well) |
| A-7020-3-4 | Agaro-Power™, Comb (21 well / 34 well) |
| A-7020-4 | Agaro-Power™, Gel Caster/Tray |
| A-7020-5 | Agaro-Power™, Cable Jack |