AccuLadder™ 3-color Prestained Protein size marker 3+1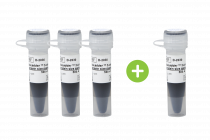 ✔AccuLadder™ 3-color Prestained Protein size marker 3+1 Promotion
(~12/31/20 6PM based on GMT+9)
Features and Benefits
Broad range


Can identify proteins between 11 - 245 kDa when used with Tris-glycine-SDS running buffer.

Ready-to-use

Simply use the product directly as it is already supplied in a loading buffer; no additional process, such as boiling or adding buffer, is needed.

Easy to identify

Includes 25, 75 kDa reference bands coupled with a green and a red dye.

Highly Reproducible


Reproducible results with uniform quality products for each batch by manufacturing under the ISO 9001 quality system.
Application
Monitoring of protein migration during SDS-PAGE.
Monitoring of protein transfer onto membranes during Western blots.
Sizing of proteins on SDS-PAGE and Western blots.