AccuLadder™ 3-color Prestained Protein size marker 3+1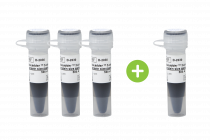 ✔AccuLadder™ 3-color Prestained Protein size marker 3+1 Promotion
(~12/31/21 6PM based on GMT+9)
AccuLadder™ 3-color Prestained Protein size marker (Broad) allows to estimate the sizes of proteins during protein electrophoresis. This product is composed of 12 different types of proteins (11 - 245 kDa). Proteins are covalently coupled with a blue chromophore except for two reference bands (one green and one red band at 25 kDa and 75 kDa respectively), allowing each band to be distinguished with ease. AccuLadder™ 3-color Prestained protein size marker (Broad) is designed for monitoring protein isolation when observing Western transfer efficiency on membranes (PVDF, nylon, or nitrocellulose) and estimating the sizes of proteins. The ladder is supplied in a gel loading buffer, making it ready to be used.
※This product is shipped in dry ice.
Features and Benefits
Broad range


Can identify proteins between 11 - 245 kDa when used with Tris-glycine-SDS running buffer.

Ready-to-use

Simply use the product directly as it is already supplied in a loading buffer; no additional process, such as boiling or adding buffer, is needed.

Easy to identify

Includes 25, 75 kDa reference bands coupled with a green and a red dye.

Highly Reproducible


Reproducible results with uniform quality products for each batch by manufacturing under the ISO 9001 quality system.
Application
Monitoring of protein migration during SDS-PAGE.
Monitoring of protein transfer onto membranes during Western blots.
Sizing of proteins on SDS-PAGE and Western blots.